Chakra Yog Foundation came into being to share True Knowledge that is rooted in ancient Vedic Wisdom and reveal secrets of Chakra Science and Chakra balancing techniques to help an individual break free from limiting self-imposed beliefs, illusions, perceptions and wrong definitions that put him into a seemingly never-ending materialistic and mechanical life and attain rounded success and spiritual development and progression. It aims to help you do complete justice to the immense potential that Supreme has provided you with the realization that 'You Are More'.
"Chakra Yog's Knowledge base has evolved from Advaita Vedanta teachings and from Bhagwat Gita's four paths to Union."
Chakra Yog aims to propagate the 'true reason of our existence' and explain in-depth the reasons and causes of failures, fears, diseases, financial problems, poor relationships and mental stress. Its teachings empower your life with holistic health, success and prosperity in the journey of your life. Chakra Yog is a branch of Yog in which the 7 Chakras (subtle energy centers) located in the human body are 'brought-in-balance' through Sadhana (practices) to achieve Union of the Individual Self with the Divine Power. This Union is referred to as Self-realization or Enlightenment. This Union is also a pathway towards Jeevan Mukti or Moksha.
Chakra Yog covers deep and practical knowledge of Chakra Science and Chakra opening or balancing that is a simplified and easy-to-follow practical path to help you discover the reality – your true nature or your true self. The work of Chakra Yog essentially is to take you within so that you open the 7 Chakras – the 7 gates of True Knowledge and Lessons that help you take right actions leading you to explore your Highest Potential and eventually reach Self Realization or Enlightenment.
"The highest goal of Chakra Yog is the 'true bliss' that you accomplish from the realization of your 'true-self'. Once you realize your true-self then nothing limits you, nothing shackles you, nothing is an obstacle for you, nothing is negative for you because "YOU ARE MORE". This true self is your true nature". Anyone trying to understand their own nature or anyone trying to be one with their own true nature is a Chakra Yogi. A true Chakra Yogi values Truth, Peace, Bliss and the Infinite Power. This makes you equal to Divine and you are ready to create everything as per your 'true nature'. The approach of 7 Chakra Sadhana (practices) is a scientific and a spiritual process is broken down through a series of workshops on relevant topics to point you to a deeper understanding of your true nature or your true-self. This involves:
All of us are always searching for something 'more' than what we have or what we are. Some are lost in problems, life challenges and trying to search a way out. Some are searching for a path or a solution to well-rounded success in personal and professional life. Some are simply seekers by nature. This search ends the moment you discover, understand, realize and settle in your 'true nature' .
Featured with Prominent Dignitaries
Featured with Prominent Dignitaries
WHAT IS YOUR 'TRUE NATURE'?

Your 'true nature' is what you truly are – it reflects through the unique identity you are born with; to put it more simply – your highest strengths and talents that makes you feel your best version and motivated all-the-time is your 'true nature – your unique thumbprint'. This is what makes you remembered well after you have left this mortal world and this is what makes you 'immortal' and free from the cycle of birth and death.
It is understanding and attuning to the laws of life through directing the mind, body and senses that makes you become one with your 'true nature'. This is also called Yog (Union). True Knowledge of Yog leads you to clear off misguided thoughts, wrong behavioral tendencies and actions that is actually not you at all but these are your karmic challenges and circumstances. You heal all of this and cross everything (emotional conflicts & traumas, grave physical diseases, failed relationships, financial problems) that has been pulling you back and blocking your growth all this while. All type of blockages that you have been going through just goes away permanently. But, your commitment to change yourself in thought, behavior and actions needs to be one of surrender. When you have this level of commitment you clear off all the blockages, resolve karmic challenges and circumstances and your Mind, Body and Soul heals completely.
Move forward and begin to align with your 'true nature'. Just sitting on the fence over-analyzing or judging without complete understanding has not helped anyone and never will.
To begin connecting with your 'true nature' requires you to first understand that there is a Higher-Self inside of you that needs to be attuned with. Aligning to this is essentially surrendering yourself to the fundamental laws of life that hold the truth that leads to union with that nature that is love and bliss. Essentially, the 7 Chakras located in your subtle body are the KEY to achieving highest material and spiritual goals.
Every Chakra governs an aspect of your life like your existence or purpose, identity, power, feelings, expression, intuition and knowingness. To be precise, each Chakra governs different aspects of your life – different needs and wants, your expressions, your feelings, your senses and in fact the sixth sense too. Every individual has faced tough challenges in his life, each one has fears, negativities and bitter experiences; whatever each of you have gone through has unknowingly blocked your chakras causing either emotional disorders or failures or physical diseases or financial loses and so on.
Chakra Yog with its Release Meditations and Rudraksha Ratna Science Therapy is a holistic healing path of course corrections to help you succeed in every endeavor that you have for your life. Through the 'Light of True Knowledge' you will learn how practically you can use these truths and lessons to help you connect the dots and accelerate your path through the 'motivational push' of Release Meditations & RRST' that will help you imbibe the inherent intention of life that 'You Are More'.
The moment you tread this path, you will immediately feel the change in your energy, in your vibrations and 'more'… That's a promise!!!
Nothing should ever limit YOU
Nothing should ever shackle YOU
Nothing is an obstacle for YOU
Nothing is negative for YOU
because "YOU ARE MORE"
-Sakhashree
ABOUT SAKHASHREE NEETA
(FOUNDER – CHAKRA YOG)

Sakhashree Neeta, the Founder and Pioneer of Chakra Yog, is a Self-Realized Master and modern-day Yogi who has spent years chanting mantras and meditating intensely. She received 'detailed revelations of previously unknown Knowledge and Insights' during her deep stages of meditation on how True Knowledge and the Seven Chakras work in tandem to assist us in reaching our highest potential and ultimately Self Realization or Enlightenment. As a Chakra Yogi, she has dedicated her life to healing, empowering, and evolving human consciousness. Her commitment to realizing untapped human potential is evident in all of her endeavors, and she leads her participants to the realization that "You Are More."
She founded Rudraksha Ratna Science Therapy (RRST), a ground-breaking approach to chakra balance and healing that makes use of Rudraksha beads and gems. She founded the world's first Rudraksha website in 1997 and has been practicing ever since. 
She has risen to prominence as a result of her ongoing study and research into Rudraksha beads and gemstones and their effects on the human body. Her expertise includes sourcing authentic, high-quality Rudraksha from Nepalese and Indonesia farms. After more than a decade of continuous research that included reading ancient scriptures, aura readings, and interactions with clients, metaphysicists, doctors, scientists, Vedic scholars, and saints, she discovered this science of maximizing the effectiveness of Rudraksha and Gemstones.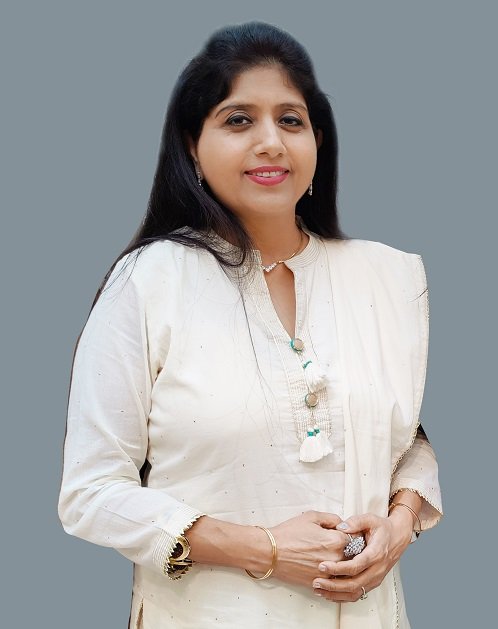 The name Sakhashree means the one who has the ability to extract the best from each individual in a way that allows them to fully reconnect with their true essence and, as a result, maximize their unique abilities by expressing their unique individuality in order to reach their highest potential.
Throughout her work, she met experts from the TM Foundation, Deepak Chopra, Master Charles of the Synchronicity Foundation, David Frawley (famous gemmologist), Thomas Ashley Farrand (author of Healing Mantras), and Richard Shaw Brown (famous gemmologist from Bangkok), all of whom were impressed by her knowledge and joined her cause, with several becoming RRST distributors in their respective countries.
Sakhashree, as she is affectionately known by her followers, is an effervescent speaker, thinker, author, and spiritual guide. Her Chakra Yog workshops provide participants with paradigm-shifting insights into the self-realization reality. She is an expert at transforming herself into a catalyst for positive change in people's lives. Her advice and remedies have benefited thousands of people from all over the world. She is regarded as a spiritual friend, and those seeking her assistance discover their inherent strength and purpose in life, enabling them to live in peace, good health, happiness, and abundance.
Partner Network in Countries
If you have seen any photos of me, or seen me on television or in movies, you most likely saw me wearing a string of beads. Those beads are part of my secret to success. They not only help me look cool, but they are gems infused with power, and help assist me in attracting what I want. Even if you think this a placebo and it is all in my mind, is not it you mind where *everything* actually takes place? It was put together in a precise, scientific ways, by Neeta Singhal. This is not religious but is very spiritual, and is very scientific. Rudraksha beads open up the chakras in your body in an unbelievably short time—in less than 3 days. This starts the process of physical and emotional healing. These miracle items from Neeta enhance your aura (energy field) and help you attract wealth, good relationships, and success. You will find it eye-opening and useful.

I've been wearing the rudraksh bracelet ever since 2018 and WOW. My intuition, creativity and performance went up beyond everything expected. I've become really independent, creative, elaborate and industrious which is most satisfying in a BIG way. I'm happy with my results and be it with the rudraksh influence, from my self or the higher divine, I do love the design + effects and will continue to wear it. I direct everyone asking about it to your website

Neeta ji I want to say thank you. after receiving your products and wearing them and performing regular Pooja I feel very confident, clear and blessed. I can't wait to see how the gemstone and rudraksha's for my kids would work. You have changed my life and I feel very blessed for finding you. God bless you and hope god gives you all the strength to help lot more people like who were like in dark not knowing what's happening in life

Rudraksha benefic effect on my 5 year old daughter is instantaneous, she focuses on task at a time, spend more time with study & her retention is amazing. She is able to sleep on time & wakes up cheerfully

I cannot thank you enough for all you have done for us! I have also been wearing my Rudraksha bead since it has arrived, and it has cured my skin complaint! It just suddenly gone!!!! Also my well-being has greatly improved…. I have felt the effects!!!!

Since I started wearing my both bracelets, am feeling very positive and happy. My body pain has lessened too. Also my son Shri krishna's attitude toward life changing and confident about himself. His is more clear about his own decisions without consulting anybody. I know this is happening by wearing those powerful rudraksha.

Namaste, Thanks. The power bracelets are really working well. Business has expanded locally and internationally at the same time. I feel energetic, healthy and on top of the world. I will be coming back to you shortly for my husband's recommendations. Thanks for all that you do.

I Thank you for everything for the bracelet and the rudraksh I am wearing in my upper arm, since wearing them I have become very confident and bold which I was never before also is about to take up a new risk. I am taking steps to work on my own terms with the existing company or to start a new business whichever materializes as I have already put m my foot down to be dictated with the confidence I have got after wearing all the rudraksha and the ring, my lower back pain is also getting much better.

My whole nervous system was not in order. I felt uncomfortable and often fell sick. On the recommendations from the expert, I wore a red coral gemstone and a pearl. Within a few days, I had regained my energy and could do many more things done. The second day, I didn't feel like I needed to sit down and rest after taking my shower and dressing. I was able to take a 20 minute walk after my work day. I am back to this life!!!! Thank you so much

Hello, I am Rahul Mohite, I live in Jharkhand, I have recently bought a new house and performed the Vastu puja and purchased Vastu items. I have experienced positivity and positive changes in short time. Simply splendid experience Thank you.

I was facing health, financial and relationship issues all at once, used to feel stressed and negative all the time. Read about Chakra Vastu and took consultation and recommendation. Have experienced gradual improvement in all aspects of my life, health has improved, joined a new job and am feeling positive and optimistic with less stress and worries.

Thank you for the speedy delivery and the kindness that went into this shipping. The Vastu items and Yantras are beautiful and of a pristine quality. You even gave me a free gift! I will most certainly buy from Chakra Yog in the future and recommend it with great confidence.
It is amazing how powerful they work! Already a few days after wearing the bracelet and the mala, I could stop taking painkillers for the artroisis and sclerosis in my knees! Pain was not explicit anymore…and I could walk much easier. Now, a few weeks later, I don't have the pain at all!!! This is remarkable!
Based on your suggestions, on March 28, 2012 I procured 6,8,10,17 mukhi and Gauri Shankar rudraksha from healing matrix office in Bangalore. After wearing these rudraksha beads for 20 days, the results were amazing. These holy beads had a great positive influence on my physical and mental conditions. Being impressed, I voluntarily opted for 19 and 13 mukhi rudraksha beads also. Readers of this testimonial can reach me (dineshvnr@gmail.com) for any clarifications.
Since long I couldn't come to the healing matrix, the place to take happiness from. I have taken few Rudraksha beads from you and the result is so amazing…….Perhaps no body have seen such changes in his/her life. Things are happening as per my wish. It is beautiful. These beads have magic power. I am getting what ever I wish and willing to have.
Rudraksha is a Magical Bead, when energised through proper rituals, and when worn in right places. Belief is the pre-requisite for the changes to happen quickly. When the change start to happen, acceptance is the key, My personal experience after wearing the rudkarsha is something extra-ordinary, I feel that every HUMAN BEING should and must wear rudraksha. I thank NEETA ji and her team for taking RUDRAKSHA SCIENCE to a new level. I prefer rudrakshas from healing matrix, because of their true nature to help and also their involvement toward rudraksha.
Since I started wearing my both bracelets, am feeling very positive and happy. My body pain has lessened too. Also my son Shrikrishna's attitude toward life changing and confident about himself. His is more clear about his own decisions without consulting anybody. I know this is happening by wearing those powerful rudraksha.
My mind is very clear, I am more aware, I have a lot of energy and I feel very balanced , I understand more , I learn quickly, I feel more attractive, I make others feel good doing so, good things come to me, I am full of ideas and inspiration, I am able to take time and be patient , anger seems a fairy tale now…..must go on?
I have been wearing my beads, something happened to me that hasn't happened to me in years. I started my menses and I had no pain, indigestion. Heaches and moodiness. I actually had energy and clear thought and was pain-free. Thank you for recommendation, Actually had energy and clear thought and was pain-free. THANK YOU for the recommendation.
I have tried to balance my chakra's in the past on my own, but I was not very successful..!.. I am so pleased! I can honestly say that I have not felt so good for years….
I felt at one with the universe, while at the same time realizing that my body for the first time in years was working to full potential. Thank to your Rudraksha recommendations!
Pooja Singhal
NIFT Fashion Designer, Delhi
I would like to inform you about the amazing results that I just received aura by your recommendations. It has been two months now. That I have a aura reading with you and you had recommended me to wear my indra mala the ek mukhi by my throat and along with 2.57 ceylone blue sapphire that you also recommend that's also to wear with my diamond ring. I just got a financial gain as a paid in home caregiver for my mom. I got bump up over half of what I was paid. I also want to thank Lord Shiva and his powerful powerful Rudraksha. I love Hinduism religion. I am not hindu but I really love to worship Lord Shiva. Thank You Thank you again.
Subject: Rudraksha bead cured my skin complaint it just suddenly gone. I cannot thank you enough for all you have done for us! I have also been wearing my Rudraksha bead since it has arrived, and it has cured my skin complaint! It just suddenly gone!!!! Also my well-being has greatly improved…. I have felt the effects!!!!
I should mention that it was by Lord Shiva's blessings, I came across your site and got the opportunity to wear the authentic, powerful rudrakshas, whose effects are almost instant. I had been going through a myriad of health issues for the last several years and often times been depressed so much with zero interest & vigour in life. I don't have words to express my gratitude to the Lord, yourself, your colleagues and your wonderful business, which in my opinion is not just business but it is a service to community.