Sakhashree Neetaji, the Pioneer and Founder of Chakra Yog is a modern day Yogi, a Self-Realized Master who has practiced years of Mantra chanting and intense meditations. In her deep stages of meditation, she received 'detailed revelations of unknown Knowledge & Insights' on how True Knowledge and 7 Chakras work together to help reach our highest potential and eventually Self Realization or Enlightenment. As a Chakra Yogi she has dedicated her life to heal, empower and evolve human consciousness. Her passion for the realization of untapped human potential is seen in all her initiatives.
Neeta or 'Sakhashree' as she is popularly known by her followers is a renowned expert on the Chakra system. She is vastly experienced and is a dynamic speaker, thinker, writer and spiritual teacher, who is dedicated in pursuing her goal to help heal the world and evolve human consciousness. Her Chakra Yog workshops help people with groundbreaking insights into the reality of self-realization. These detailed so far 'unknown knowledge' and insights of chakras were received by her in deeper stages of meditation. Her passion for the realization of untapped human potential makes her motivate her clients to realize that "You are More".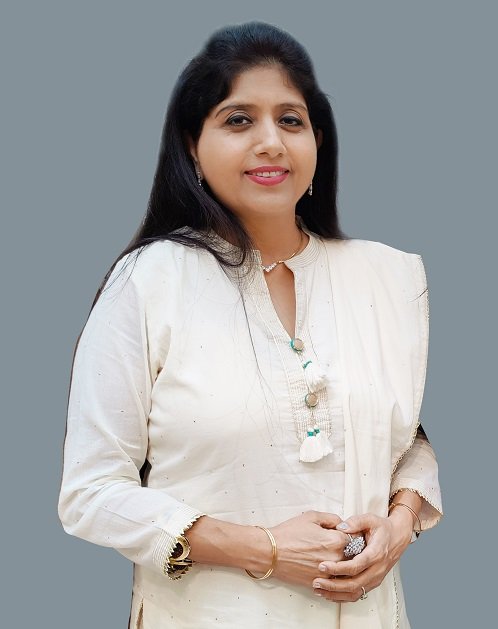 She is a specialist in being able to become a catalyst of change in people's lives as soon as they want to see those changes happen. She has been conducting Aura/Counselling programs that have benefitted thousands of people from all over the world. After therapy, people have rediscovered their inner strengths and have started living a more happy and meaningful life.
She is the pioneer of Rudraksha Ratna Science Therapy (RRST), a unique approach of using Rudraksha beads and gems to balance chakras and facilitating healing. She launched the first website in the world on Rudraksha in the year 1997 and has been practicing since then. She has reached a level of authority today through continuous study and research about Rudraksha beads and Gemstones and how they affect us. Her expertise includes selecting authentic, high quality Rudraksha from the interiors of Nepal and Indonesia. She came across Rudraksha Ratna Science Therapy through her tireless efforts to find ways to make Rudraksha and Gems work in line with the descriptions of their powers in ancient scriptures. During her work she came in contact with experts from TM foundation, Deepak Chopra institute, Master Charles of Synchronicity Foundation, David Frawley (famous Gemmologist), Thomas Ashley Farrand (Author of Healing Mantras) and Richard Shaw Brown (famous Gemmologist from Bangkok) who impressed with her knowledge joined in her cause, and some even became distributors in their countries.
Spiritual healer Neetaji is the penultimate authority in the realm of Chakra healing, Yog and Rudraksha Ratna Science Therapy. A specialist in Chakra Science, her mission is to spread awareness about the role of Chakras in achieving holistic health, success, self-empowerment and spiritual awakening.
In her counselling sessions, she realigns the thoughts and beliefs of her clients and suggests remedies for them to achieve positive outcomes in their personal and professional lives.
Sakhashree Neeta is the Director or Rudra Centre which started in 1997 to make the world aware about the power of Rudraksha beads. Today Rudra Centre has 35 distributors in 24 countries and distributes Rudraksha, Gemstones, Parad items, Yantra, Puja items and meditation accessories to a worldwide community.
She founded Chakra Yog in 2012 to disseminate Chakra Science and Chakra Healing through Rudraksha Ratna Science Therapy (RRST), a technique patented by her. Chakra Science empowers you to use the fundamental laws of life to your advantage by using the lessons of the Chakras, the energy centers in the human body. She conducts workshops and seminars across the world to promote Chakra science. She also holds workshops to disseminate authentic information about products, festivals and mythology to an eager audience that desires to know about the significance of events and correct usage of these items to enhance their lives and environment.
Sakhashree Neeta's approach is practical yet scientific. She remains a spiritual guide to thousands of followers, showing them how to live in peace, good health, happiness and abundance.
In Sanskrit, the word 'Yog' translates to union or joining. Our scriptures say the practice of Yog leads to the union of an individual soul with the Universal Consciousness. For seekers, there are four broad paths to reach the Divine. Rightful action in accordance with the universal laws is called Karma Yog. The path of bhakti or devotional surrender to God and to humanity is termed Bhakti Yog. When you explore your Inner Self through meditation or dhyan, you are involved in Dhyan Yog. If the devotee uses knowledge to develop spiritually and to answer the basic questions of life – eternal questions such as "Who am I? Why am I here? What is the purpose of my life?" – he is called a Gyan Yogi. The veil of maya prevents us from knowing our real nature and the nature of the universe around us. Gyan Yog is the process of piercing this veil with a multi-pronged approach. Gyan Yog or the Path of Intelligence works very well in conjunction with rightful action and meditation. The Gyani uses the powers of the mind to discriminate between the real and the unreal, the temporal and the permanent. In this pursuit, he does not forsake his worldly duties and responsibilities. On the contrary, he gives his best to his profession and career, whilst loving and working towards the good of humanity.

You are here because you are looking for something higher than yourself, a higher purpose, a greater meaning in your life. You must know that it is not easy to perceive Brahman, for Brahman is infinite, eternal and all pervading. However, through Gyan Yog, you can use your discrimination to separate the real from the unreal. Then you will realise that all duality is ignorance. There is no need at all to look outside of yourself for a divine entity. For you are yourself Divine.
Featured with Prominent Dignitaries
Featured with Prominent Dignitaries